คลิกที่นี่เพื่ออ่านหน้านี้ในภาษาไทย
Sawasdee Chiang Mai Map
Media information
"Sawasdee Chiang Mai" Map - first published more than 17 years ago - is much more than just a means of finding your way about. With colour photos, it gives both visitors and new residents an easy-to-use guide to the city, past and present, as well as enabling readers to find products and services they want.
At a time when most magazines and newspapers are losing support to the Internet, the map continues to attract increased advertising sponsorship. The Google "map" can only sketch in the streets from your present location to a destination. It is not able to show pictures of city sights along the route or any other factors needed to give an overall understanding for a visitor in a strange city.
"Sawasdee Chiang Mai" map is printed in English, Chinese and Thai. 1,000 free copies are distributed around the city to a new readership each week. Because of accuracy and simple, modern mapping, it is the preferred choice for hotels, T.A.T., guest houses and car rental companies. Requests for more copies are received daily. Copies are also sent by post to prospective visitors.
For reviews, see also our Facebook page at https://www.facebook.com/sawasdeemap.
Advertising is available in a variety of prominent display positions or popular "business-card" size panels. Artwork can be made to suit your needs at no extra charge, including translation to Chinese and Thai for taxi drivers and of course we can include your QR code or website address. Your advertisement is immediately seen. No magazine pages to turn. And readers can easily find you on the map using your location number.
Features include:
Introductory notes
Places to visit with brief explanatory text
Location of key attractions with photos
City districts info
Two sides: inner city area and attractions outside city
Clear mapping built on local knowledge
Traffic flow regulations in English and Thai
Useful quality advertising, location number/colour system

Contact us for advertising rates and latest copy.
Thinking of visiting?
CHIANG MAI - HOLIDAY DESTINATION
Compared to most destinations in Thailand, Chiang Mai has a wealth of attractions and things to do at all times of the year. It is also ideally placed as an aviation hub for other parts of the region.
Established in 1296 A.D. as capital of the powerful Lanna kingdom, the city nestles along the river Ping within a large fertile valley 1,000 feet above sea level and is bounded by scenic green-clad mountains.
Chiang Mai is renowned for its beautiful women, magnificent temples, old traditions and kind people. It is a centre of agriculture, especially rice production. Thailand's world-famous handicraft industry is located here and in 2017 became UNESCO Creative City of Crafts and Folk Art. Many interesting and picturesque destinations are within easy reach by tours and trekking. Buddhism forms an everyday background to passing events and opportunities are available for foreign visitors to attend short or longer meditation retreats.
There are a number of schools offering Thai Massage Teaching Courses. Thai cookery schools abound. You can try your hand at making saa paper or even decorating your own miniature elephant. All over town you will find skilled gold and silversmiths and hundreds of artisans working in dozens of specialist crafts: silk, lacquer-work, ceramics, furniture and many more trades.
Easy Walking Map
Our first publication around 2001 took the form of a tiny one-colour A4 size map complete with short guided tour. It was focused on the Old City and East of Thapae Gate. The inner, moated, Old City largely remains a place where graceful Buddhist temples are accessible from the road and wooden, time-weathered houses are still to be seen along the busy streets. Over 30 temples within the Old City still remain fully active.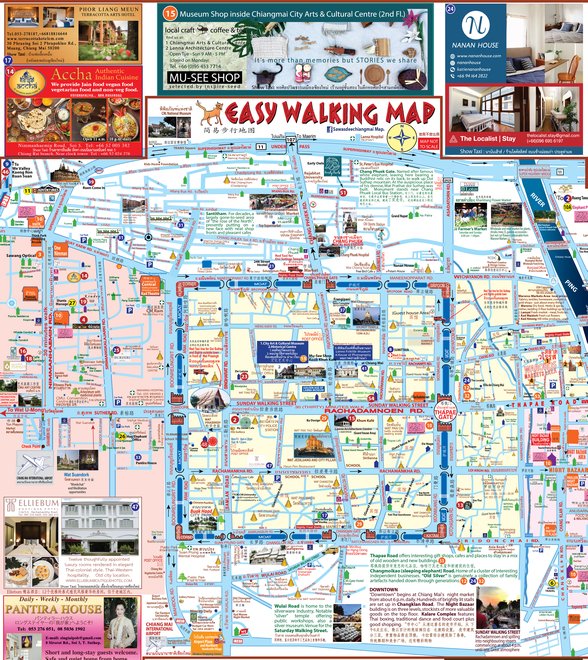 Attractions & Heritage
In 2006 a huge public park dedicated to the late king, Rama IX, was opened in the south, together with a new Night Safari Park. This led us to extend the map. For the outer city nowadays we show the Mae Rim area with its adventure attractions, botanical garden, orchid farms etc.
Doi Saket in the north is the location for a selection of new, elegant resorts. Borsang village with its colourful parasol and fan-painting shops is represented, so too Sankhampaeng with its factory handicraft shops, famous Hot Springs, and world-class art gallery.
Hang Dong with Baan Tawai village form the focal point for Thai wooden craftsmanship and traditional hand-carving.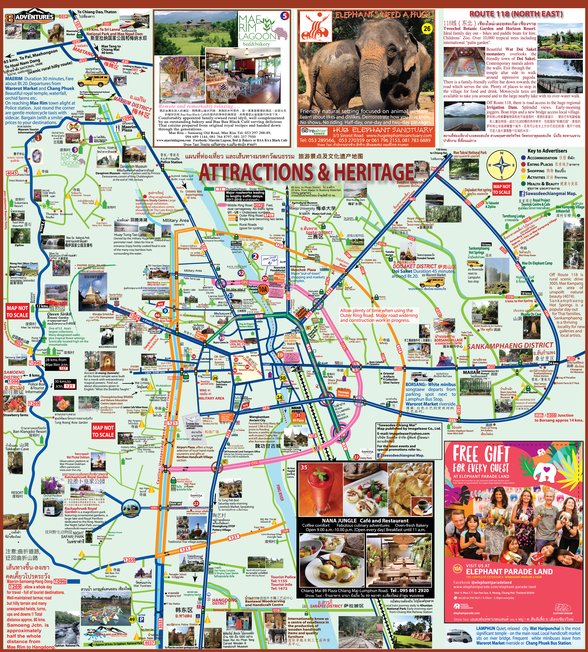 For travellers
The map is updated twice a year. Advertisements provide our revenue. We trust you will find their content informative and some of our customers able to meet your needs when you come to Chiang Mai. Please send your address if you would like a free copy and please mention the map to our advertising sponsors.
Thank you. Enjoy your trip!
Contact us
Imagelease Co. Ltd
158/64 M. 6 T. Choengdoi
A. Doi Saket
Chiang Mai 50220
THAILAND

✉ info@sawasdeemap.com
☎ +66 53 292 338 and +66 81 027 5851
ติดต่อ บริษัท อิมเมจลีส จำกัด
158/64 หมู่ที่ 6 ตำบลเชิงดอย
อำเภอดอยสะเก็ด
จังหวัด เชียงใหม่ 50220